This company was formed for our love of children, our love of art and our love for the artistic community.
Our goal is to not only provide families with exceptional child-care, but to administer a unique and specialized childcare service to New York City families. All of our sitters are background checked, CPR trained and attend workshops on working with special needs children. Our certified referral only staff is comprised exclusively of professional artists, actors, and dancers, who will provide creative and active care for our list of referral only clients.Not only will our sitters look after all the basic needs of their charges, they will also spend constructive time teaching classes based on their creative backgrounds.
We believe that childcare should be a fun, engaging, and personalized experience which promotes growth and individuality.
Our motto? Less screen time, more playtime.
Jen Malenke
Co-Founder
Jen is a singer/actor whose career has run the gamut from Broadway to a reality show with Josh Groban, session singing with people like Alan Menken in LA, being a judge on a competition show on ABC with Nick Lachey, and concerts with celebrities across the country. She also has been a voice/piano teacher and a babysitter for many years. She is passionate about children and the arts, and also about her fellow actors.
The theatre community is comprised of some of the best people she knows, and she has seen a need for Broadway Babysitters for a long time; the need for helping out actors with employment in between shows, helping actor parents with affordable childcare, and providing parents outside of the biz with creative, wonderful, trustworthy sitters to enrich their children's lives. She is grateful that she met Vasthy at just the right time, and is thrilled to be working with her.
Vasthy Mompoint
Co-Founder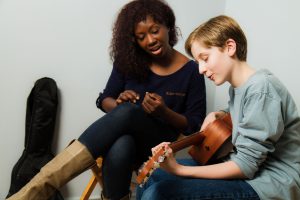 Vasthy Mompoint is the Co-founder of Broadway Babysitters. An actress since the age of 13, she has performed all over the world on Broadway, TV and Film. While reading the Babysitters Club series by Ann M. Martin, at the age of 10, Ms. Mompoint fell in love with the idea of caring for children. Her love for special needs children began while helping one family in need. Shortly thereafter, her skill set and passion of working with special needs children became known.
The rest is history! Over the past 15 years, Vasthy has cared for over 50 families in New York City. She strongly believes artists make the best child care providers because they always bring a sense of play, imagination and creativity.
John DiStasio
Special Needs Consultant
John DiStasio graduated from New York University with a Master of Arts degree in Early Childhood Special Education. In addition to a graduate degree, John also has an S.A.S Degree from New York University in school administration. He has been working with special needs children since 1986 and spent 8 years as a head teacher at a special education school. In 1997, John was instrumental in starting and heading up a year round program for special needs adolescents in upstate New York focusing on behavior management and team building. Since 2000 he has been both a special educator and a behavior therapist and has had a great deal of expertise in facilitating special needs children into mainstream settings.
John has helped guide many children with pragmatic language delays and socialization issues to acquire appropriate social language and skills. He has conducted social groups dyads and also has served as an expert witness where he advocates for students with respect to school placement. Additionally John conducts hands on training as well as workshops at several private schools in Manhattan he has also trained with experts in the field of behavior analysis and has graduated from Penn State University's program for Behavior Analysis and sits on the Board of Directors of the non-profit organization Ramapo for Children. For more information visit IDEA Associates.